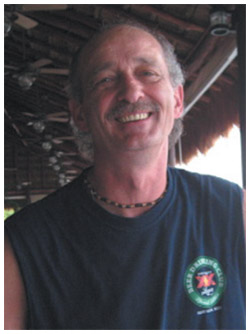 Max Vandersteen was originally born in Australia but came to Alberta, Canada with his folks at a very early age. He grew up in Calgary primarily and finished high school there. Growing up in that part of the province, Vandersteen developed a love of skiing, hiking, camping, horseback riding and pretty well anything outdoors, especially if it was in the Rockies. He came to Edmonton in 1973 to attend university and is still living there today due mainly to the people of the city. He has married twice during those years and his wife, Leslie, and he had raised their blended family in this community.
Vandersteen has also developed interests in scuba diving, traveling, social justice, and volunteering. He remains as active as possible in all these activities, and says that writing about them and sharing them to people around him has also grown more important now that he has retired.
When introduced to the sounds and imagery of poetry, Vandersteen began to write his first poems and entered a contest during high school. To his surprise, he finished well but only continued to write sporadically for years about his feelings and experiences but always especially loved to work with the sounds of language. Becoming more involved with social justice issues has opened his heart as well as new desires to write about these injustices, events and people in the hope of promoting a more global community.